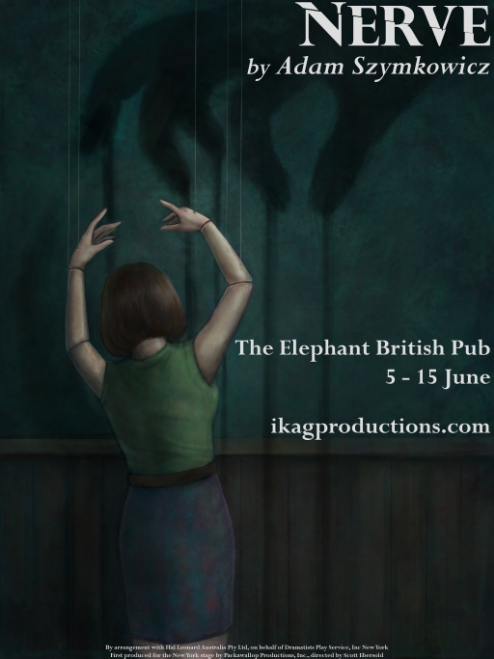 Poster design by Alex M Beckinsale
5-15 June 2019


Nominated for two Best Performance (Professional) awards for the ATG Curtain Call Awards 2018/2019 for Tom Gentry's portrayal of Elliot and Katherine Silbereisen's portrayal of Susan.


Nerve is a dark comedy that follows Elliot (Tom Gentry) and Susan (Katherine Silbereisen) on their first date in a New York dive pub. Somewhere amidst a sea of awkward conversation, slightly excessive drinking, and alarming personal confessions, the two find themselves falling into an odd, profoundly unhealthy, ceaselessly entertaining relationship.

Szymkowicz's play explores the unpredictable perils of online dating and the harsh realities of loneliness and mental illness in a way that is as delightful as it is disturbing.



'...achingly believable and wholly engrossing, even sharply funny at times, while never undermining its inherent seriousness of purpose.'
--Anthony Vawser, Adelaide Theatre Guide

'A 90 minute roller coaster ride, with a killer soundtrack... If you are passionate about and appreciate quality productions and theatre, IKAG Productions Adelaide premiere of Nerve is not to be missed.'
--Jenny Pickett, WeekendNotes

'Both actors were very convincing in their respective roles and a soundtrack of local Adelaide bands curated by Sound Designer Samuel Rodda was effective as a backdrop to the performance. IKAG Productions has done a wonderful job in bringing this contemporary New York play to an Adelaide audience, so get along to see it, as it is worthy of your support.'
--John Goodridge, The Upside News

'While in places quite disturbing, Nerve will certainly resonate with all who have been on the dating roundabout... The acting and direction is impressive and the concept very clever.'
--Shelley Hampton, Stage Whispers